---
Proudly Made In the USA
Covid-19 Statement

Our Factory located in the USA is still operating at this time, albeit with a reduced staff. All precautions are being taken to protect the health and safety of factory staff and our customers.

The factory is one of the few remaining locations in the world producing material critical to the manufacture of electrical power equipment. While this has not yet affected Frogwood deliveries, we ask for your patience in these difficult times if this does start to impact special orders and requests for out of stock items.

Our stock levels of standard colors and sizes of blanks are good, and we look forward to providing you with these from our workshop and shipping departments, where we have been operating a strict isolation regime since the end of February.
---
---
Frogwood & CNC Machining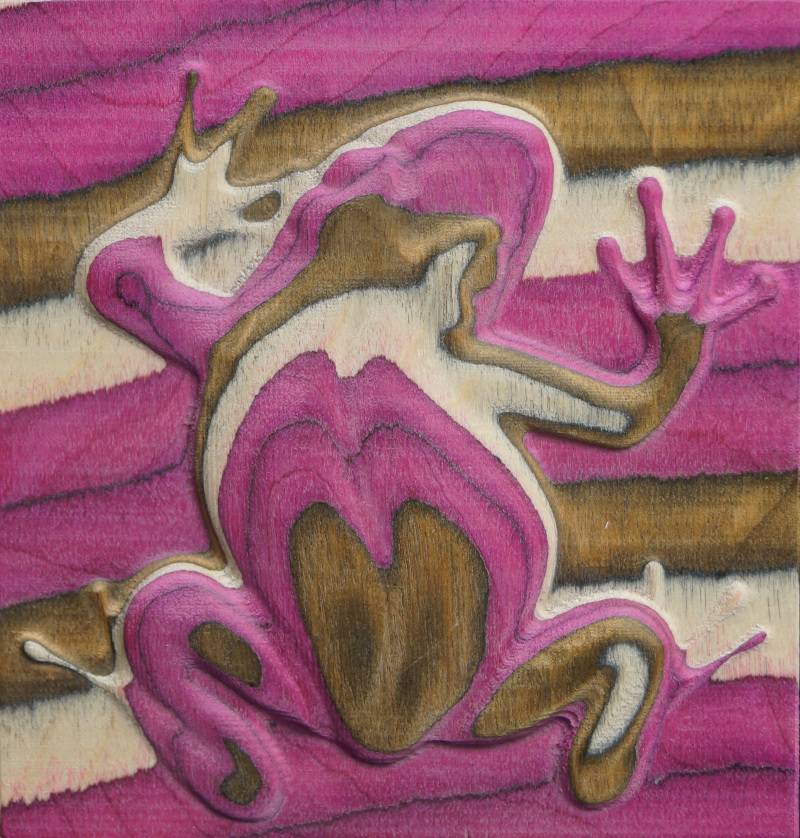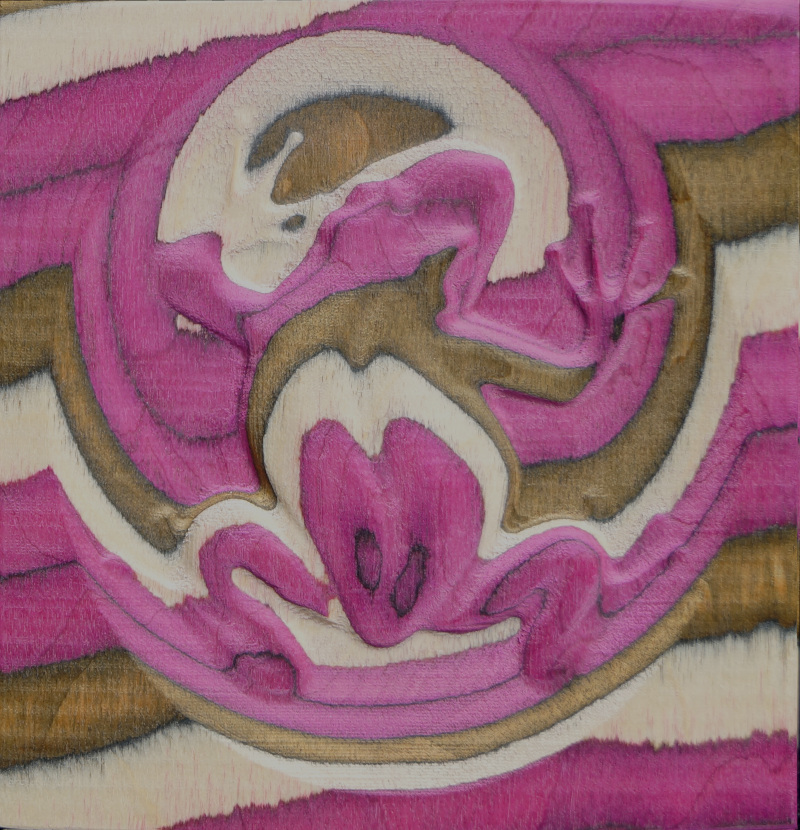 Use very sharp cutting tools, carbide if possible. Medium spindle speed with low to medium feed rate for roughing. High spindle speed low feed rate for finishing. Consider this material like cutting cherry, not soft like pine or hard like ash.
The pieces shown above were CNC carved in Frogwood Lilac. The wood was cut on the diagonal to get the wide color bands.
---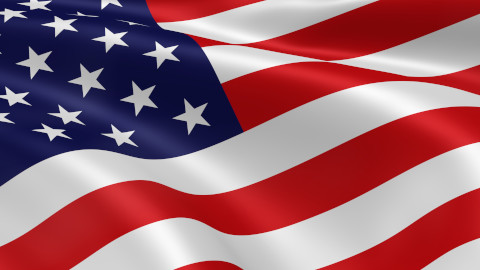 Whatever your project, FrogBlanks has the ideal engineered wood for you. For weight-sensitive applications choose Frogwood®. For extra surface hardness, strength and rigidity, choose Frogwood RHD5™.
Frogwood is a high quality lower density material that is ideal for general turning and woodworking. It is our lowest price point material.
Frogwood RHD5 is heavier but has excellent resilience with smooth cutting and finishing characteristics.
---
Frogwood®
---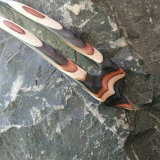 Nice material: easy to polish, high gloss finish, slightly flexible - better than SpectraPly® and lighter than stabilized alternatives :)
Mara - Rostock, Germany
Mara creates hair forks "haarforken" in a variety of woods and other materials
Sköldpadda Haarforken
Mara is a Featured Crafter - Check out her other Frogwood designs on our newly revised 'Showcase' pages!
---
Amazing
Absolutely love this blank
Cant wait to make different pens with this wood. Awesome to work with and great quality. People love it
John - Florida, United States
---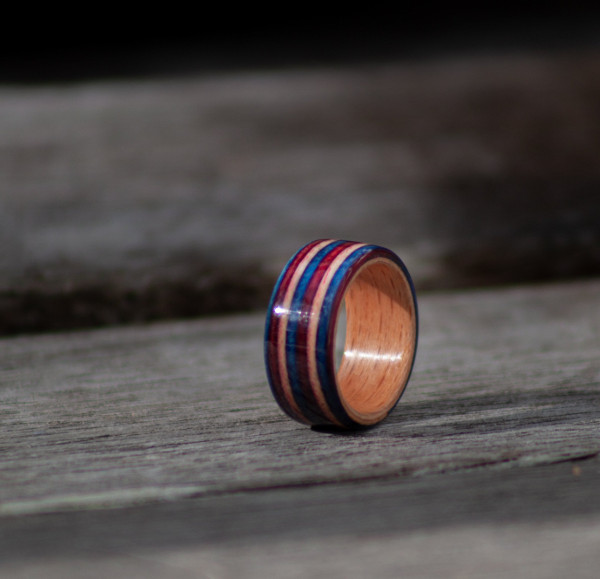 I found working with FrogBlanks on the lathe very satisfying. No tear-out, as sometimes happens with laminated wood (e.g. when working with skateboard decks). Can't wait to turn more, and apply them to other projects.
Lynne - Auckland NZ
Lynne creates beautiful rings & other jewelry in a variety of materials
YouWoodNz - Handmade in New Zealand
---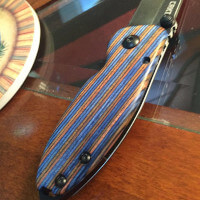 Cool and unique wood, easy to work with will buy again, thanks!
Mick- Cincinnati, OH
Check out Mick's spectacular selection of knives
Mhagmx Store
---
Frogwood RHD5™
---
This is the Dymondwood® replacement I have been looking for. I loved the integrity of the layers, sanding and finishing like I used for Dymondwood® . I would say the final result is easily the equal of Dymondwood® and much superior to everything else out there.
Roger Dismore, PenDesigns.com
Roger is a Featured Crafter - see more of his pens in the Showcase gallery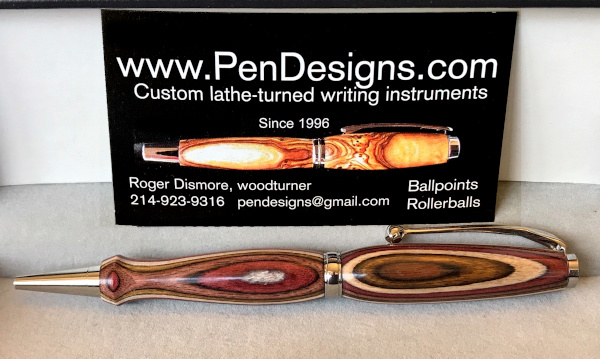 ---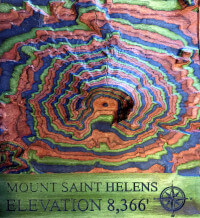 Prompt shipping and really appreciated the fact partial sizes could be ordered rather than only the full panel options of some of FrogBlanks competitors. The RHD5 machined very well and the high layer strength left zero tear-out anywhere on my project. Peter and Cliff are obviously very passionate about their product and were helpful every step of the way. I will definitely be ordering again
Nik Beebe - Oregon, USA
Nik Beebe is a Featured Crafter - Nik made an extremely detailed 3D rendering of Mount Saint Helens. His work can be seen at Garage 2 Home Etsy Store
---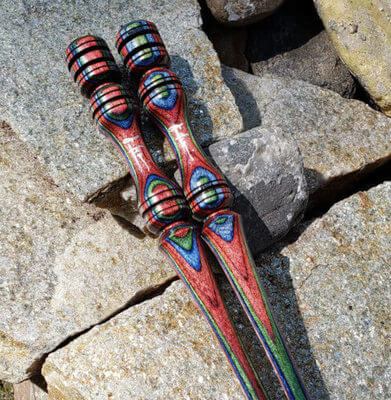 Wow!!

This stuff turns nice!

Much more smooth than rutland, and definitely more "wood like" than dymalux...

It grips very well on all the playing surfaces (slate, glass, aluminum and titanium.) The sound is very good, and lively....does not have the dull plastic tone to it that others have.
Jeff Harrison - Maryland, USA
Jeff is a Featured Crafter - his gallery shows what can be achieved with custom color layups